DNA Script introduces a new paradigm in oligo production, the SYNTAX System, powered by Enzymatic DNA Synthesis (EDS) technology to accelerate life science innovation. Designed for speed, convenience, flexibility and ease of use, the SYNTAX System enables automated nucleic acid synthesis in a benchtop solution. Researchers may now have same-day synthesis of custom oligos at the lab bench, without the need for specialized infrastructure or technical skills and increased control over molecular biology and genomics workflows.
Read More
about the SYNTAX System.
integrated solution
Sequence in,
Ready-to-use oligos out.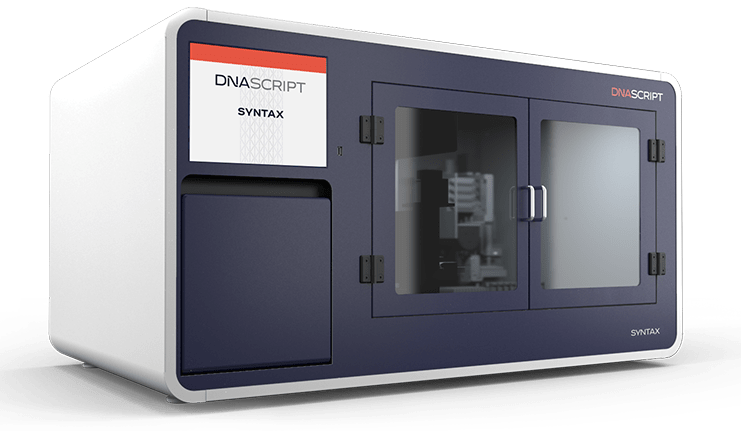 SYNTAX System
<15 min setup time, plug-and-play automation.
Onboard purification, quantification and normalization of oligos.
Delayed start for convenient run timing.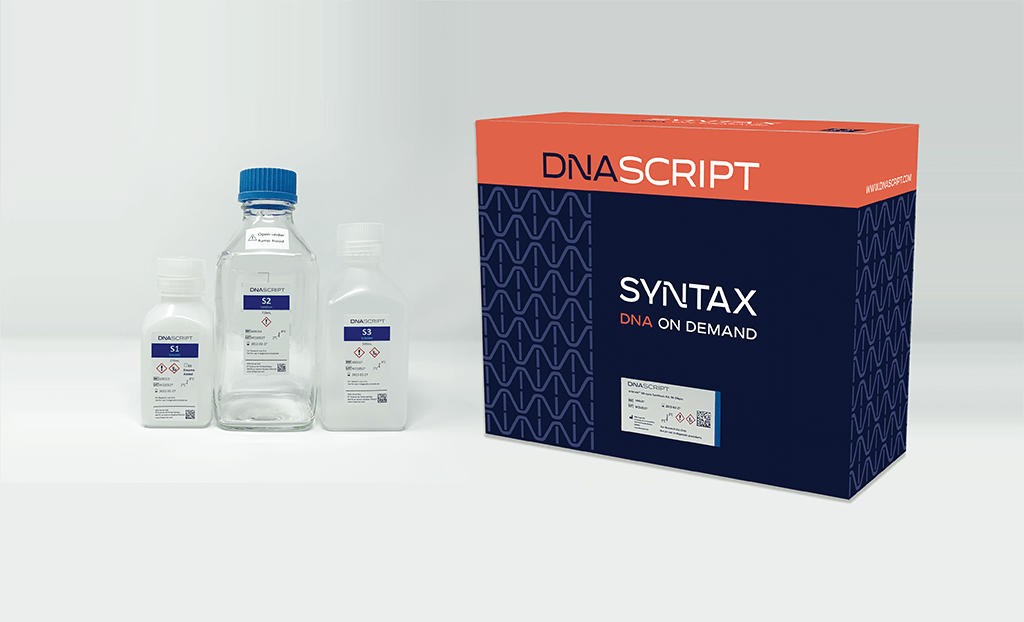 SYNTAX 60-cycle Kit, 96 Oligos
EDS technology for template-free synthesis.
Complete reagent & consumables kit, including 4 inks (A, T, G, C).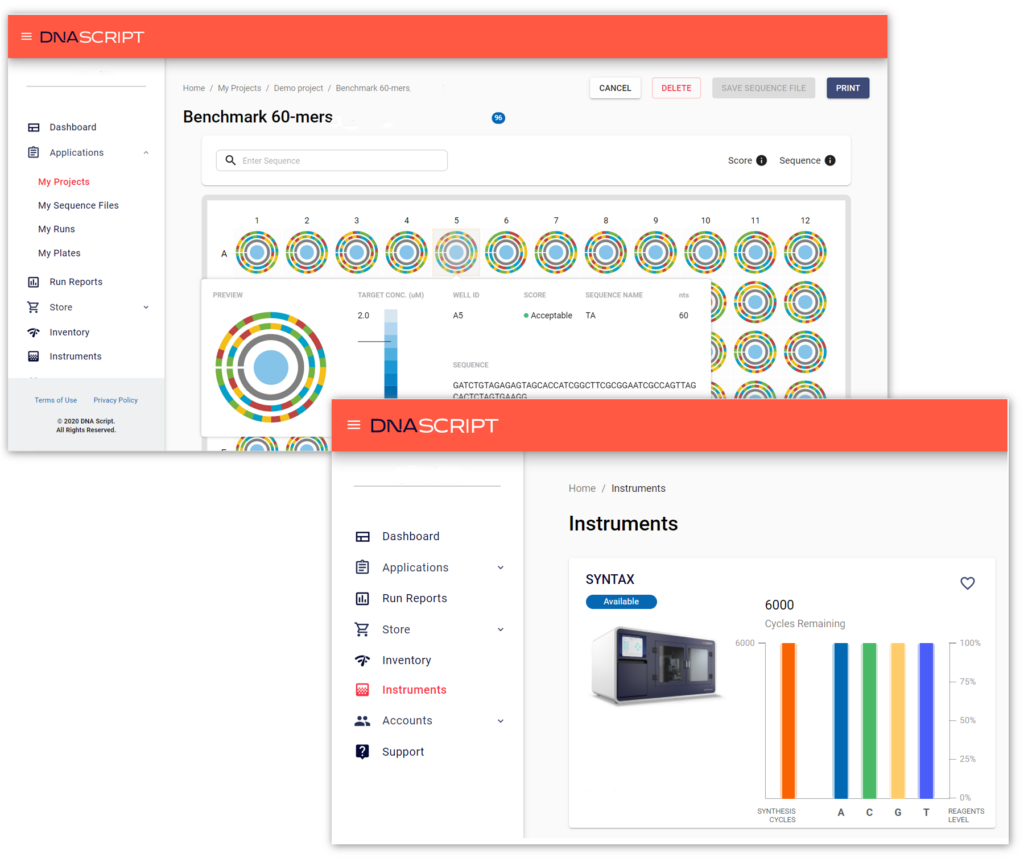 SYNTAX Console Software
Easy-to-use software solution for seamlessly integrated workflow.
Centrally create, manage and share DNA design runs and results files.
benchtop advantage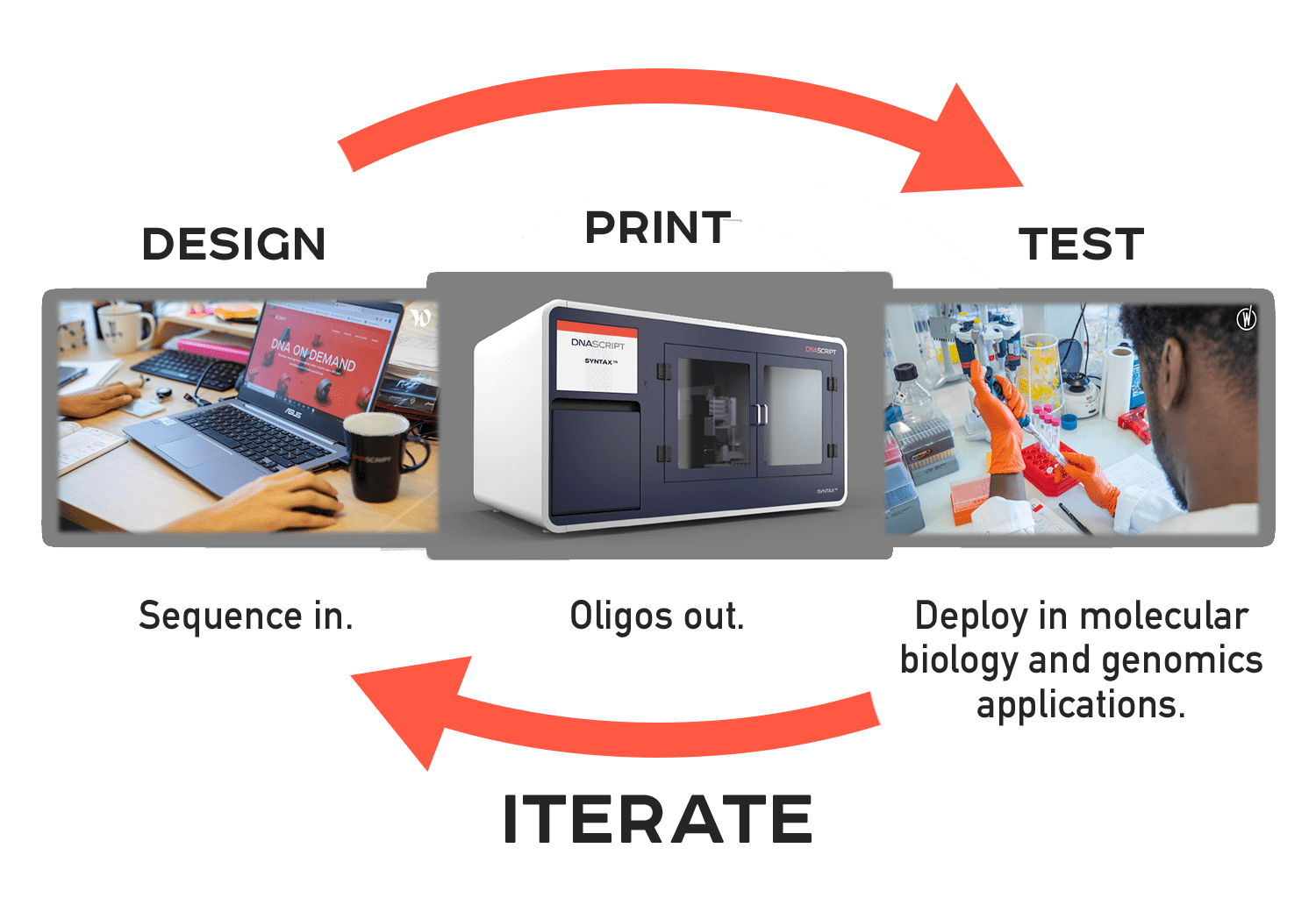 The SYNTAX System rapidly produces oligos on-site for maximum productivity and convenience. Within the same day, new oligos can be designed and printed based on test results. This enables rapid, iterative oligo synthesis to accelerate assay optimization and reduce hidden costs and decreased productivity due to oligo delivery wait time.
Convenience, Control, & Dependability
The SYNTAX System can be used without specialized infrastructure, skills, or experience and offers more control over sequence information and security. In-house oligo production provides dependable supply with less risk of delays due to third-party manufacturing, logistical challenges, or extraordinary global events, like the COVID-19 pandemic.
Seamless Integration
into Molecular Biology Workflows
Oligos produced by EDS have been demonstrated to meet functional performance requirements in a wide range of applications, including PCR, qPCR, mutagenesis and cloning, amplicon sequencing, variant confirmation and single guide RNA (sgRNA) construction for CRISPR/Cas9 gene editing workflows.
Pre-order with Customized iDNA 5' Motif
EDS offers the unique ability to add a sequence to the 3′-end of existing, native, single-stranded DNA. Use this unique feature to include a fixed 5′-motif—such as a primer or protein binding site, promoter sequence, restriction enzyme recognition site, adapter, or barcode—in all or a subset of oligos in a batch. The SYNTAX Console Software lets you easily design and order custom synthesis plates.
system capabilities

    Synthesize up to
    96 oligos in parallel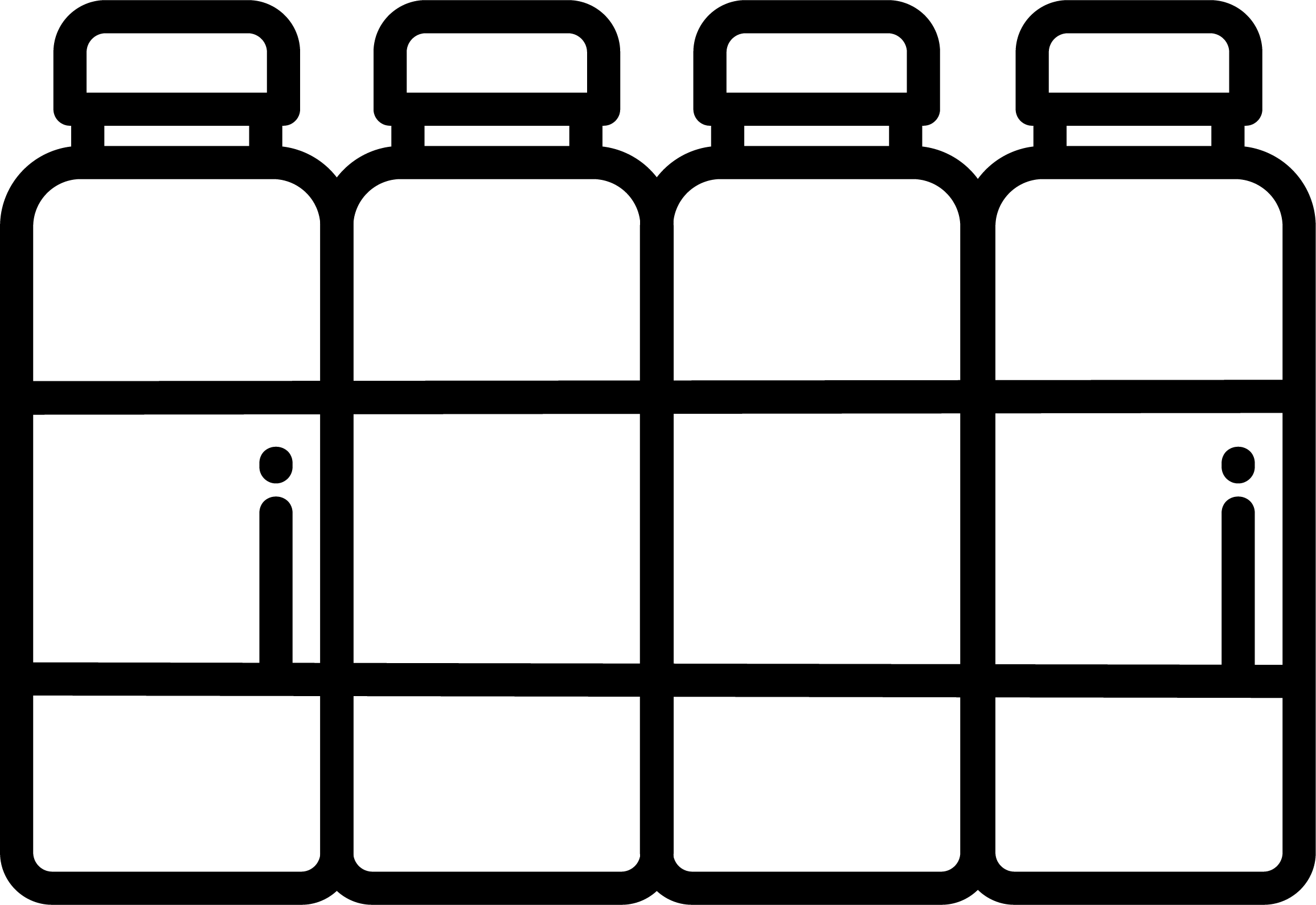 4 inks – A, T, G and C


    200-300 pmol / well
    Normalized to 4-7 uM


    Fully automated:
    Sequence in – oligos out


    <15 min hands-on time
    6 hr for 20-mers
    13 hr for 60-mers

    Scarless, molecular biology ready-to-use oligos
    Default 5'-phosphate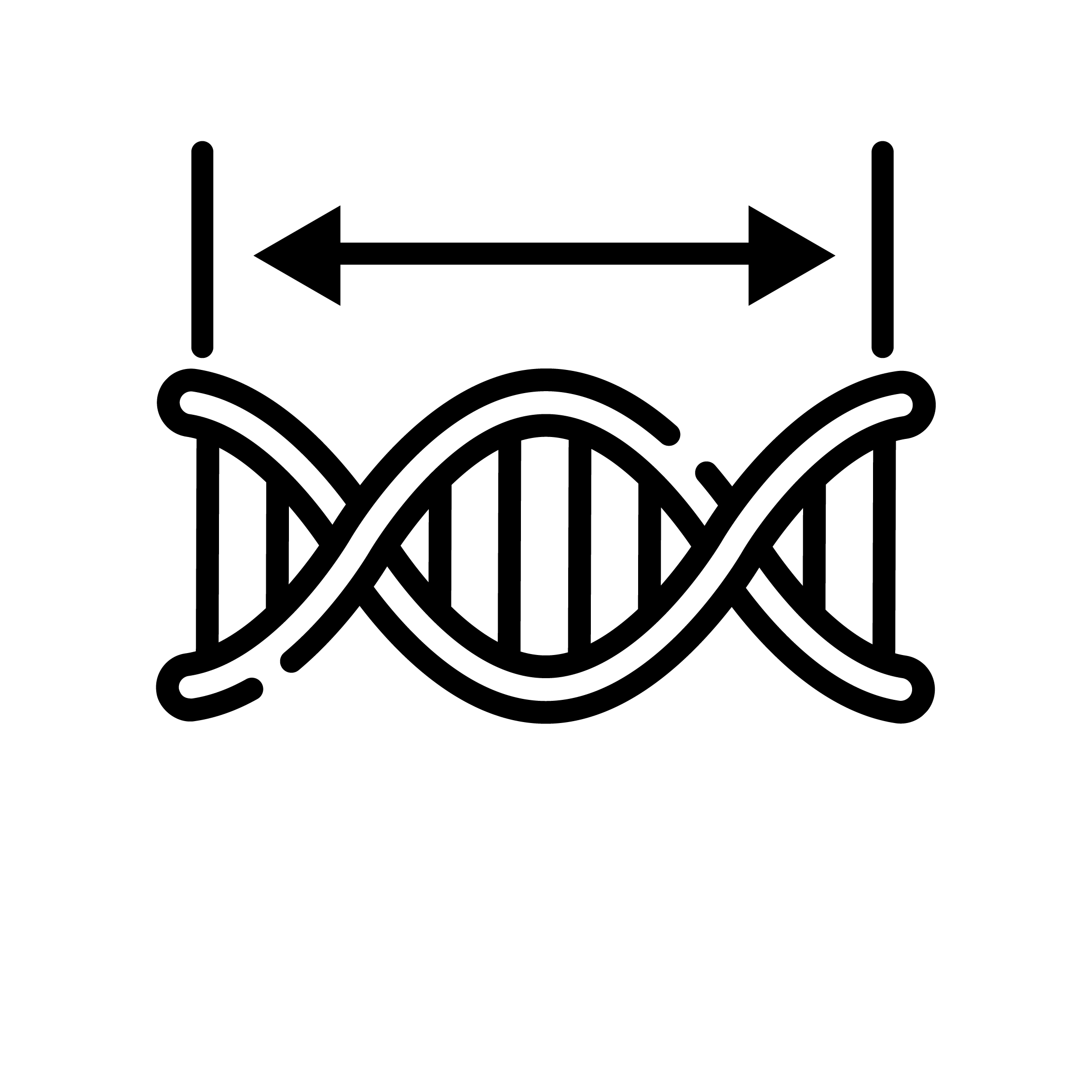 15-60 nt de novo oligo synthesis
    Customizable iDNA length of 15-40 nt
ordering
Ready. Set. Go.
Cat. No.
Product Description
100296
SYNTAX System
(with standard 12-month warranty)
100094
SYNTAX System
(with standard 12-month warranty and 2nd year service agreement)
100134
SYNTAX 60-cycle kit, 96 oligos
100274
SYNTAX 60-cycle Custom iDNA kit, 96 oligos, pack of 4
Order your SYNTAX System today
REQUEST QUOTE